Each month Santa Rosa Junior College recognizes excellence on campus with an Employee of the Month Award. Visit the Employee of the Month Nominations page to find out how to nominate someone you feel deserves this distinction.  Here is a list of past EOM recipients.
Previous recipient: Charles Gachet - October 2021
 
November 2021 - Dan Van Gorkom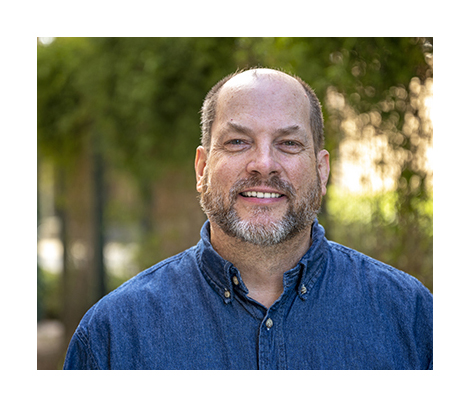 Congratulations, Dan Van Gorkom, for being named Santa Rosa Junior College's November 2021 Employee of the Month! Dan is a Media Systems Technician II in Media Services.
Based primarily on the Petaluma campus, yet serving Districtwide initiatives, Dan is the lead technician, systems engineer, audiovisual designer, and primary installer/integrator for some of the largest and most complex in-house installations at all SRJC campuses. He also provides technical coordination for college events.
"Dan is truly a 'rockstar' for Media Services," said his supervisor and nominator, Gregg Wycoff. "He's incredibly talented, dedicated, productive, and brings a unique skill set and wealth of experience to SRJC. His impressive system designs and project work have saved the District tens of thousands of dollars by not using external vendors. His keen ability to teach and train coworkers and mentor students has shown his generosity and willingness to transfer his extensive knowledge and experience to those around him who wish to develop and hone their technical skills." 
To date, Dan considers the audiovisual upgrade in Ellis Auditorium his most significant accomplishment at SRJC.
Dan's greatest challenge in the position came during the summer of 2021.
"Dan stepped up in a huge way after the loss of the Petaluma Media Services Manager by providing departmental stability, unit leadership, patience and flexibility, along with an unwavering commitment to success for the team, Petaluma campus, and supporting SRJC's mission," said Wycoff.
For his success in the position, he credits his management team; Matt Pearson, Matthew McQuaig, and Greg Wycoff. They have been supportive of his experience and abilities to improve AV systems across the college dramatically.
Dan's favorite aspects of the job are working with the people who make up Media Services and staying current on the latest AV brands and models.
Dan was born in San Jose and grew up in Morgan Hill, where he graduated from Live Oak High School. He attended Gavilan College and achieved his A.A. in audio engineering. At the Master's University, he earned a B.A. in music composition/theory and a B.A. in church music. Dan had 35 years of experience working in audio video integration, event staffing, and was a professional musician before being hired at SRJC. He began in the Media Services department in 2016 as a Media Systems Technician I, and has been in his current (temporary promotion) position, Media Systems Technician II, since 2017.
Outside of work, Dan enjoys biking, hiking, RC planes, cars and sailboats, and HO trains. He is also the Worship Pastor at Heartwood Church in Rohnert Park. He has been married to his wife, Carolyn, for 27 years. They have a 21-year-old daughter, Melody, and a 16-year-old son, Steven.
Dan was surprised when he learned he was November's Employee of the Month.
"Other than the media department, I didn't think most SRJC folks knew who I am or what I do. I am honored to be recognized because it shines a light on the whole media department, the hardworking, highly qualified, great people that make up this team."