Each month Santa Rosa Junior College recognizes excellence on campus with an Employee of the Month Award. Visit the Employee of the Month Nominations page to find out how to nominate someone you feel deserves this distinction.  List of past EOM recipients.
Previous recipient: Regina Mahiri - December 2018
 
January 2019 - Darth Elledge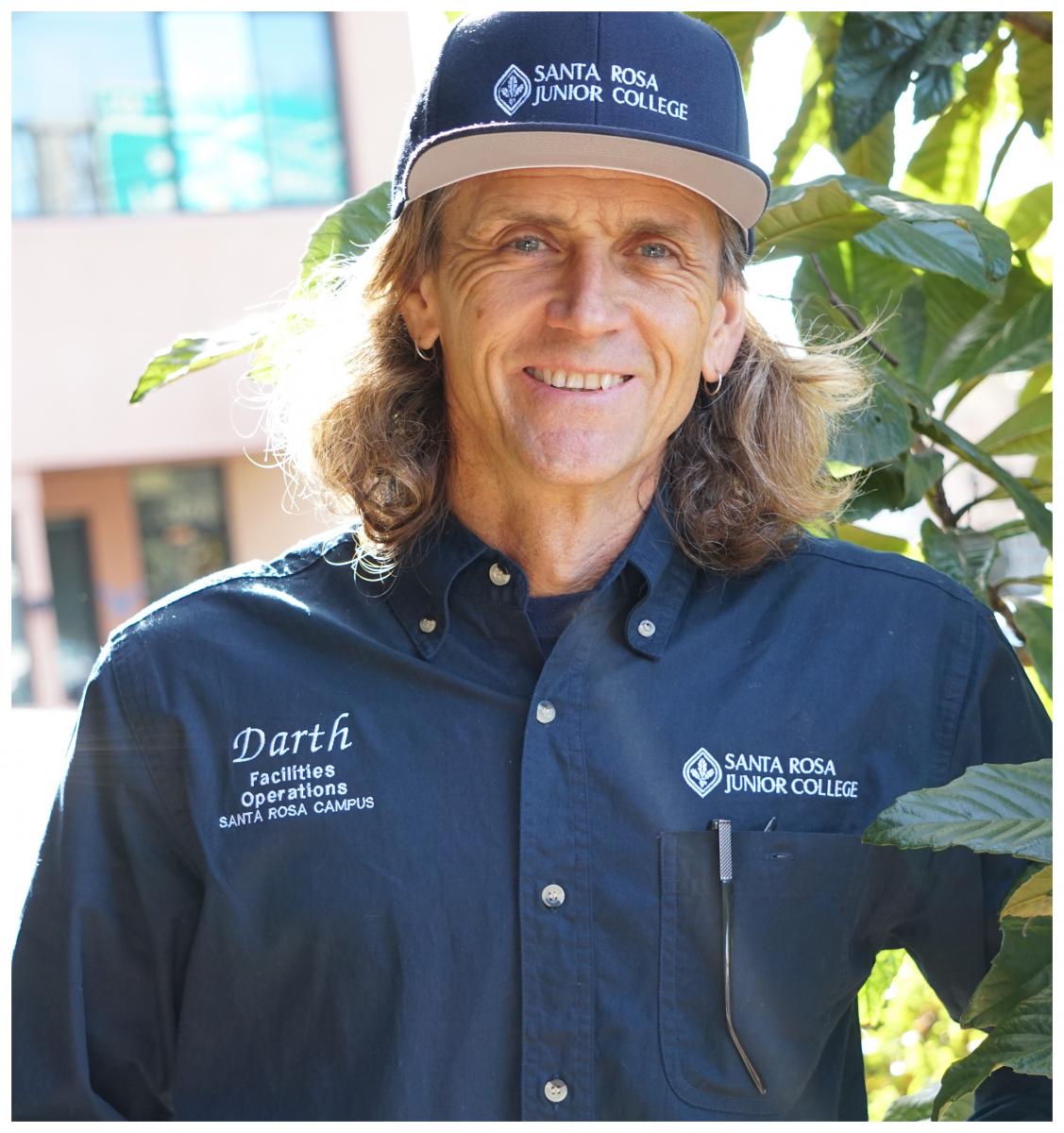 Congratulations to Darth Elledge, Coordinator, Grounds Operations for being named Employee of the Month for January 2019!
Many people enjoy the lush greenery and beautiful landscaping at SRJC's Santa Rosa campus, but not many know the person working behind the scenes, Darth Elledge. As the coordinator of grounds operations, Darth designs, plans and coordinates installation of landscapes and makes sure they are well-kept every day using his experience and knowledge of maintenance. He also ensures that all work is done following safety guidelines and in the interests of aiding students and their ideas.  To put it simply, Darth helps keep the Santa Rosa campus looking beautiful.
Darth has been working in landscape installation and maintenance for over 20 years. Prior to joining SRJC, Darth spent eight years running his own landscape maintenance company, Elledge Landscape Maintenance. He started working at SRJC in 2012 as a Groundskeeper II, but in October of 2018, he became the coordinator of the grounds operations.
"I love that I work with such a unique and diverse set of dedicated and passionate team members!" he said about his team. "I have always loved to work outdoors with nature and the environment, so I think the SRJC's beautiful campus suits me very well," he added.
Throughout the years, Darth has shown passion for beautiful and sustainable landscape design and maintenance.
Darth grew up in Long Beach, CA, and has lived in Sonoma County since 1987, when he moved here to attend SRJC. In 1992, he obtained an associate's degree in art and a certificate in printmaking from the college. He also took landscape design and contractor preparedness courses to inform his interest in landscaping.
"As a former student of SRJC, I have a deep appreciation for this campus and its students," Darth said. "I believe that my success comes from my passion for my work, my dedication to the school, and my care for the students and their experience at this institution," he added.
"He is a true rockstar in our department" said Cindy Chong, the Director of Facilities Operations. "Whether that is reimagining landscaping design, reviewing drawings, taking care of the land spacing so we have clear site lines for safety, or mentoring and assisting students and staff, he never shies away from offering his assistance," she remarked.
Darth's hobbies include surfing, skateboarding, and recycling and refurbishing antiques into useful art. He's been married to his wife, Patricia, for 22 years. They have a 21-year-old daughter, Tennessy, and two Bernese Mountain dogs, Momoko and Berkeley. He said his reaction to finding out he was named Employee of the Month was a simple but excited, "No… Really?"
Way to go, Darth!