Each month Santa Rosa Junior College recognizes excellence on campus with an Employee of the Month Award. Visit the Employee of the Month Nominations page to find out how to nominate someone you feel deserves this distinction.  Here is a list of past EOM recipients.
Previous recipient: Brandon Browning - May 2021
 
June 2021 - Mary Wyman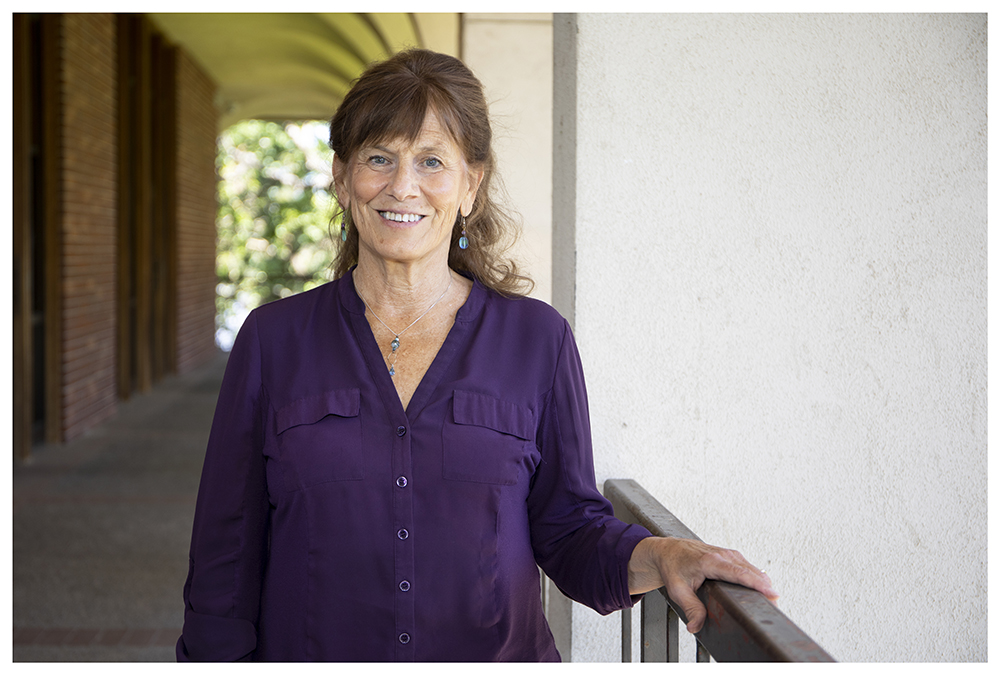 Congratulations, Mary Wyman, for being named Santa Rosa Junior College's Employee of the Month for June 2021! Mary is a College Nurse Practitioner in Student Health Services (SHS).
Mary provides medical care to SRJC students for issues from colds to fractures. If SHS cannot address a student's concerns, Mary provides community resources and referrals. She refers students to and works closely with the mental health team. She also helps students get insurance and provides case management. Additionally, Mary assists with campus events and classroom education and PEERs presentations on a variety of topics.  She represents SHS at the Sonoma County Prevention Partnership Coalition and acts as a liaison with other community partners.
Mary has served the college during challenging times. Students came into SHS traumatized following the 2017 Tubbs fire. Many had lost homes. The team worked long hours to meet the students' needs, especially with mental health issues. Then, the pandemic required a rapid shift to remote health care services, including having medical visits on Zoom.  Working as a liaison with public health, getting SRJC's COVID testing procedures in place,  consulting students with exposure or a positive COVID test,  getting students vaccinated, working toward a safe re-opening and making it through the pandemic with the SHS team, Mary believes, is her greatest accomplishment at the college.
"I witnessed rising levels of anxiety, depression, and hopelessness," said Mary. "Also, so many of the students have struggled with the online class format, the isolation, and the breaking point around racial justice with the killing of George Floyd. I am grateful SRJC worked to get additional mental health staff, especially for our students of color."
Mary's efforts toward equity have put her on the front line providing First Aid for protests, walk-outs, and rallies on the Santa Rosa campus. She was also instrumental in recruiting and hiring a bi-cultural, bilingual, Spanish-speaking college nurse practitioner. Mary helped develop the intake tool SHS uses to identify those at high risk for mental health, academic, and medical problems who need case management. "Mary's career in Student Health Services is exemplary and she has always gone the extra mile to provide excellent care and support to our students," said Rebecca Norwick, Director, Student Health Services. "Mary is a skilled and thoughtful clinician who has the respect of colleagues and students and is the consummate team member and collaborator. She is compassionate, kind, and has a can-do attitude, often working into the evening and occasional weekend to ensure student success. Most importantly, Mary is committed to unifying the community at the intersection of wellness and social justice."
Mary loves working with the students. She admires them, roots for them, learns from them and enjoys the different student populations. She has served as Advisor of the Students for Recovery Club on campus, a club offering a safe place for a vulnerable sector of the population. She has witnessed amazing, inspiring transformation among the students who have participated in the club.
Mary is originally from the Mid-West but came to Santa Rosa in 1979 to raise her daughter. She earned her Associate Degree in Nursing at SRJC, a Bachelors at Cal State, Dominguez Hills and her Masters in Nursing, and Family Nurse Practitioner License, from UC San Francisco. Her extensive nursing career included world travel (she got to meet Mother Theresa) before she came to SRJC Student Health in 2014.
Mary was surprised and honored to have been named Employee of the Month and immediately guessed her nominator.