Each month Santa Rosa Junior College recognizes excellence on campus with an Employee of the Month Award. Visit the Employee of the Month Nominations page to find out how to nominate someone you feel deserves this distinction.  Here is a list of past EOM recipients.
Previous recipient: Zack Miranda - August 2021
 
September 2021 - Matt Burge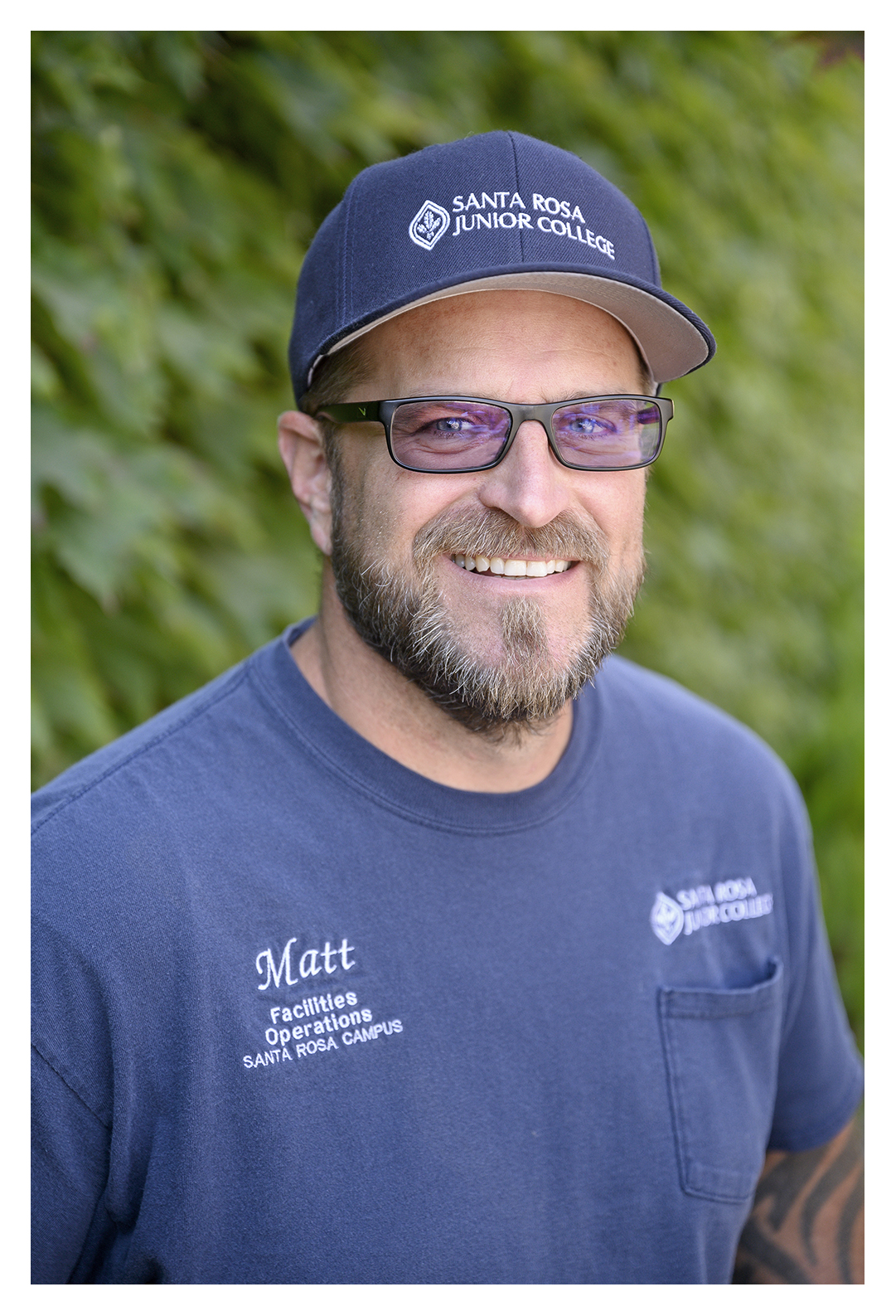 Congratulations, Matt Burge, for being named Santa Rosa Junior College's Employee of the Month for September 2021! Matt is a HVAC & Controls Technician in Facilities Operations.
Matt's responsibilities include maintaining all HVAC equipment on each of SRJC's campuses.
"Matt has proven himself to be a tremendous asset, not only to the Facilities department but to the entire District," said Manager, Facilities & Grounds, Hank Lankford. "He is a top-level HVAC tech and has saved the District thousands of dollars utilizing his skill set in trouble-shooting and repairing the District's HVAC systems, our boilers, and chillers systems. Matt is always willing to come back after hours for emergency calls and does whatever it takes to get the job done."
Matt cares about his job and takes pride in doing the best job he can do, which contributes to his success at SRJC.
"Knowing that my boss and co-workers can count on me to do any job," Matt said, is his greatest accomplishment at the college. His greatest challenge is keeping track of where every piece of equipment is located. Matt's favorite part of the job is taking something broken and restoring it to working condition.
Matt was relentless in his efforts to obtain vital MERV-13 air filters required for SRJC to meet the CDC standards for a safe return to in-person learning and to keep students, faculty, and staff safe while on campus. 
Matt was born in Greenbrae and grew up in Santa Rosa where he graduated from El Camino High School. With 20 years of prior HVAC experience, he was hired for his current position in February of 2017. He has been married to his wife, Ali, for 16 years and has two beautiful daughters, Riley and Taylor. He enjoys salmon and steelhead fishing.
"Matt's always got a good attitude," said Lankford. "He loves shooting out one-liners from old movies. That gets everyone smiling. I look forward to working with Matt for many years to come!"   
Matt said he was surprised and grateful about being named Employee of the Month.
Additionally, he said, "This has been the best place I've worked. There is a family vibe here that I love, and I look forward to meeting new people on every call I do."