Each month Santa Rosa Junior College recognizes excellence on campus with an Employee of the Month Award. Visit the Employee of the Month Nominations page to find out how to nominate someone you feel deserves this distinction.  Here is a list of past EOM recipients.
Previous recipient: Adrienne Leihy & Chas Crocker - March 2020
 
April 2020 - Theo Chatneuf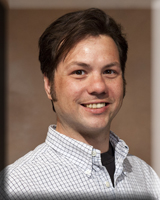 Congratulations to Media Services' Media Systems Technician, Theo Chatneuf, for being named Employee of the Month for April 2020!
Theo's duties include designing, installing, configuring, programming, maintaining, repairing, and sometimes operating district media systems, as well as leading teams in these tasks. He supports and trains staff and faculty in the basic systems, and for those who are interested, how to leverage more advanced capabilities. He also designs, coordinates, moves, sets up, configures and operates complex sound and multi-camera video, recording, streaming and presentation systems for District events and functions.
"Theo demonstrates his commitment to the mission of the department, the District and to student success in every area of his work," said his supervisor, Greg Wycoff. "When a call for technical assistance comes in, he is always quick to respond and is often the first to volunteer to take the lead. When Theo is leading a project, it will definitely be completed on time and typically early. When discussing potential solutions for instructional and event needs with the team, Theo approaches issues from the position of, 'What solution will ultimately produce the best outcome for students and provide the most successful learning opportunities?'"
Theo helps instructors and colleagues until late into the evening each night. As the sole technician during the evening hours, he juggles classroom support calls, AV maintenance issues and support for evening events.
"I have a mutant ability to make electronics work." That, and making the student experience his top priority, Theo says, contribute to his success in serving the Santa Rosa Junior College Community.
Theo reached a career milestone in January, attaining the AVIXA Certified Technology Specialist (CTS) credential. This certification is a recognized ANSI/ISO standard that indicates a high level of expertise as a professional in AV Technology design, integration and management.
The biggest challenge Theo faces? "You know when you are up on a ladder, and you drop a tiny screw onto the carpet below? That is the worst!"
Theo was born in Fort Bragg and grew up in Mendocino, the youngest of five children and the only boy. He moved to the Bay Area and graduated Summa Cum Laude in 2008 from San Francisco State University with a Bachelor of Arts in Radio and Television. Theo had 14 years of experience in audio and video production before coming to SRJC in 2011 as an STNC employee in Media Services. In 2013, he became a classified staff member. Since then, Theo has participated on several planning, design, and hiring committees. He is also a regular member of the Day Under The Oaks Planning Committee. In his free time, he likes to produce videos for YouTube, Deejay events, and play the drums.
Theo's reaction to being named Employee of the Month was, "Disbelief! I'm still pretty certain this is all just a hoax. I want to especially thank Russ Bowden, Cherry Li Bugg, and the Media Services Staff for giving me the opportunity to work for this institution. Working here has changed my life."