January 2017 - Mengistab "Mengi" Hagos Gebre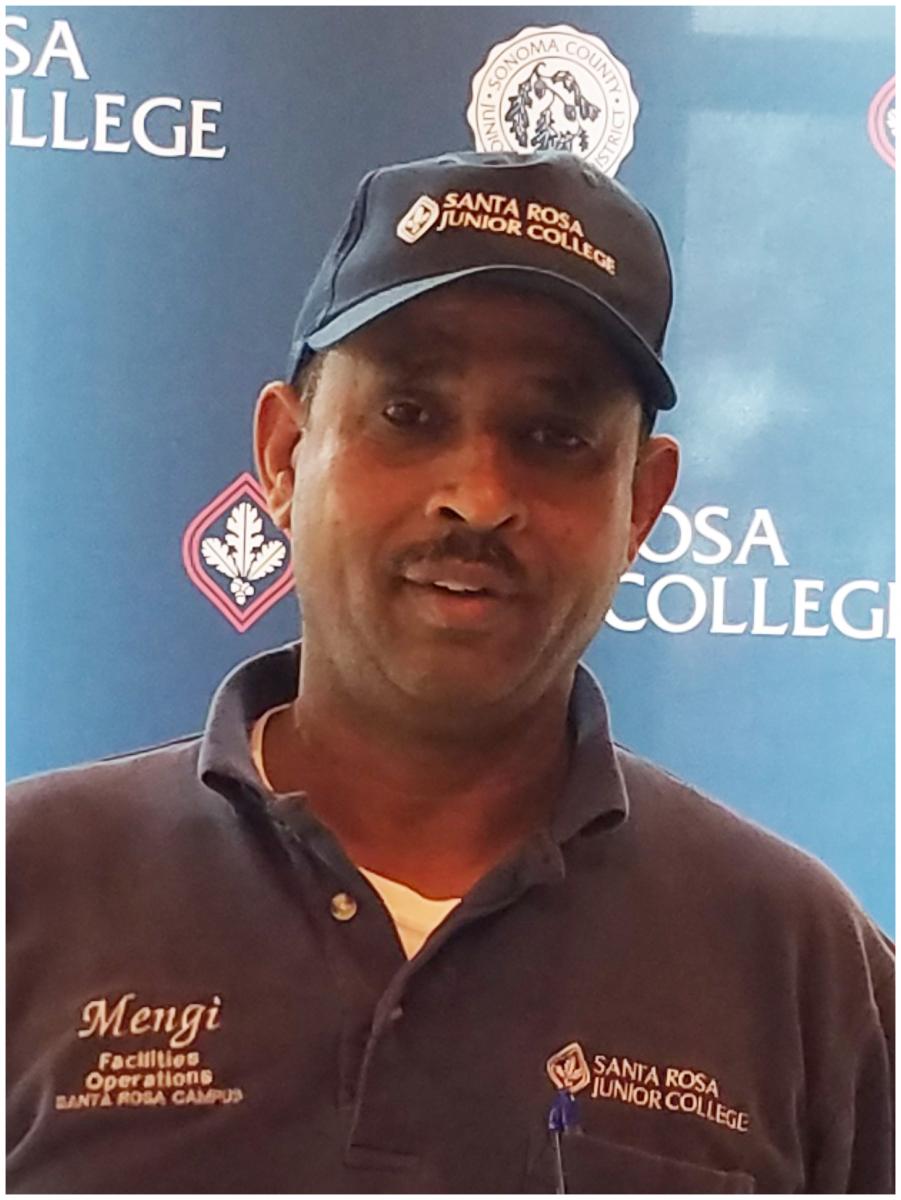 Congratulations to Mengistab Hagos Gebre, Santa Rosa Junior College's Employee of the Month for January 2017. Through work-study, Mengi joined Facilities Operations as a Custodian in 1986. He was later hired full-time in 1990, then reclassified as a Custodial Technician in 2002, prior to obtaining his current position as Coordinator of Maintenance Operations in 2013.
Javier Rodriguez Aguilera, Manager of Custodial Services, says "I'm nominating Mengi for his dedication and hard work during his 26 years servicing our Santa Rosa Campus. He has been of great support and a leader for our Custodial department. His involvement in our campus events and activities (such as Day Under the Oaks and Circle of Honor) have made it possible for them to run smoothly."
Asked what he enjoys the most about his job, Mengi responded, "My crew, the service we do for the District, the start hour of 5 a.m., the trees, the buildings, and serving the District for 26 years."
Javier Rodriguez Aguilera adds, "His work has had a very positive impact on the lives of students and staff for every activity he supports.  I know very few people like Mengi that not only consider it a privilege to work for this institution, but also feel this place is their second home. He dedicates all his effort on making sure the campus community is well supported by our department and his individual assignments."
Asked about the key to his success at SRJC, Mengi explained, "My contributions are always of the highest quality and my work is always performed with an eye toward the greater good of the District and the college community."
Aside from his work, Mengi enjoys gardening and learning about historic buildings.
Born in Adi Keyh, Eritrea, Mengi later moved to Sonoma County in the fall of 1983. Upon arriving, he enrolled at SRJC and completed his degree coursework in automotive technology in 1989.
He celebrates this award with his wife Elsa Tewelde, sons Sammy and Michael Gebre, and daughters Saba and Yodite Gebre. Three of his children are SRJC alumni who have gone on to graduate from four-year institutions including University of California Berkeley, San Francisco State University, and San Jose State University. Mengi's youngest daughter Yodite, also an SRJC alumnus, is expected to graduate soon from Sonoma State University.
Mengi adds, "This award is not just for me. This is for all of my custodial crew, without them I can't be Employee of the Month, they are great."