March 2020 - Adrienne Leihy & Chas Crocker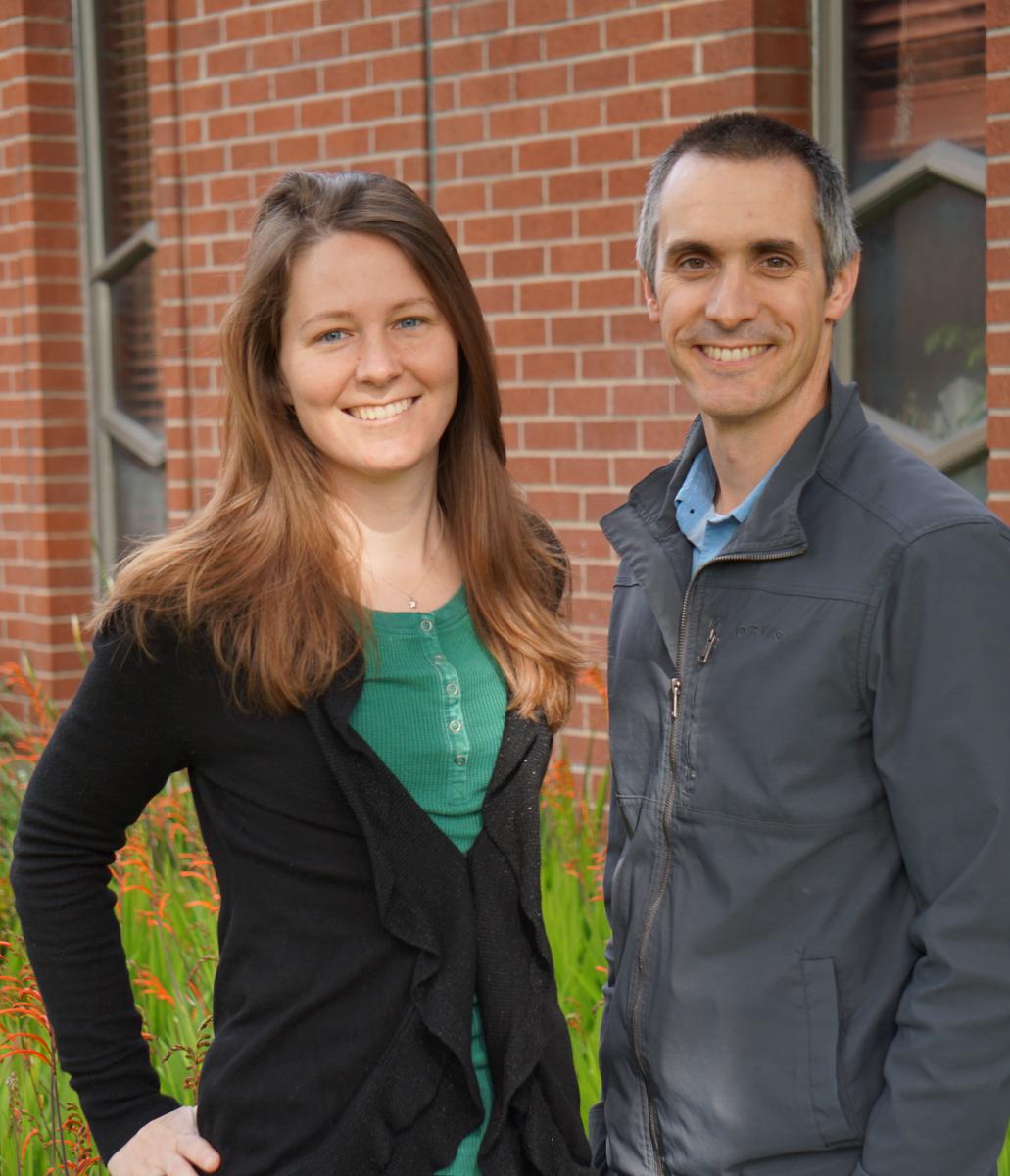 Congratulations to Adrienne Leihy and Chas Crocker, SRJC's Curriculum Technicians, for being named Employee (Team) of the Month for March 2020.
"Chas and Adrienne are both amazing colleagues who I am proud to work with in every way," said their nominator, Josh Adams, Dean of Business & Professional Studies. "They exemplify SRJC's strategic values, embrace our mission, and truly care about the work they do. They both excel in providing outstanding customer service to the faculty members they support. As a bonus, they are also fun to work with, creating an inviting office atmosphere and culture."
Chas and Adrienne are responsible for processing every bit of curriculum in the District, which includes courses and programs. They work with faculty and the Curriculum Review Committee in maintaining SRJC's internal student information system (SIS), which manages student-related data needs. They also keep the Chancellor's Office inventory system, COCI, updated manually. They have become integral experts on understanding the complex rules and regulations that govern California Community College Curriculum, which is an incredible asset for the District and all faculty.
They maintain our database of 1875 active courses, 179 certificates, and 109 degrees. Last academic year, they processed:
9 new programs
12 existing programs were inactivated
147 existing programs (majors/certificates) were revised
49 new courses were created
51 courses were inactivated
571 courses were revised
Adrienne's role in the team is as program technician. She processes revisions to existing programs of study and shepherds new ones through the various steps of approval. She reviews programs to ensure the Curriculum Review Committee (CRC) and Board policies are maintained, and that Ed Code/Title 5 requirements are met.
Each program of study (certificate or major) has a recommended course sequence associated with it. Students and counselors use them to determine the order in which classes can be completed and to see when (semester/time of day) and how (in person, online, hybrid, etc.) they are offered for scheduling purposes. When Adrienne first started in her position in 2015, this process was all done manually, either on a Word doc or Excel spreadsheet. The system was time-consuming and subject to human error, especially when there were scheduling changes. She extracted existing information from the (SIS) and used it to build Recommended Course Sequences with IT and District support.
Chas is the course technician. He appraises and processes course revisions and new course proposals to ensure the curriculum aligns with state and local guidelines.
Chas is known to be approachable and efficient in responding to faculty and staff. He has a wonderful attitude and is known as the "Cheer Fairy" in the office because of his positive demeanor and his whistling in the morning. "The way I see it," Chas says, "why wouldn't I be happy - great life, job, family?"
Adrienne was born in Maryland and moved to Santa Rosa when she was fourteen. Chas is a Sonoma County native. Both are SRJC graduates. Adrienne transferred to UCLA, where she earned a BA in Political Science & History. She returned to Santa Rosa soon after. Chas began working at the SRJC Bookstore as a student employee in 2000. He then became an STNC and was later hired full-time. In 2016 Chas transferred from the Bookstore to the Curriculum Department, He feels his greatest accomplishment has been faculty success with curriculum development, after he trains them.
Chas has been active with volunteer work at SRJC, in Management and Student Information Systems and both the Calendar and the Classified Senate Committees. While working at the Bookstore, he was on the committee that chose the student graduation speaker.
When not at work, Chas spends his time with his family. He has two daughters, ages 1 and 3. He enjoys music classes with them and hiking.
Adrienne likes birds and being outdoors hiking and skiing and she is committed to environmental issues. She is also interested in history (including SRJC history), in fact, Adrienne has been known to be the 'go-to' person for SRJC history and tours, including for new hire orientations and other District events or needs in this area. She got the seventy-year-old Bryant Fountain in Bertolini's quad fixed and continuously operable, and considers this pet project to have been her greatest challenge.
Adrienne's favorite part of her job is, "having a great co-worker," she said. "I'm glad Chas and I were nominated together. Our positions are very co-dependent. Not only can programs not exist without courses, but often course changes impact programs. Chas does a phenomenal job of alerting me to any course changes that will impact my position."
"It is quite fitting that Adrienne and I are named Employee of the Month together," Chas said, "since we work so well together and our jobs are intertwined."
"Adrienne and Chas make a great team that enables SRJC to serve our students. While they work directly with no students, they touch every single one through the work they do," said Josh Adams. "They are both dependable and I can count on the quality of their work. They are both fun, open, curious, positive, and go with the flow people. The team in the curriculum office is a dream team and SRJC is lucky to have them."