May 2017 - Henry Lankford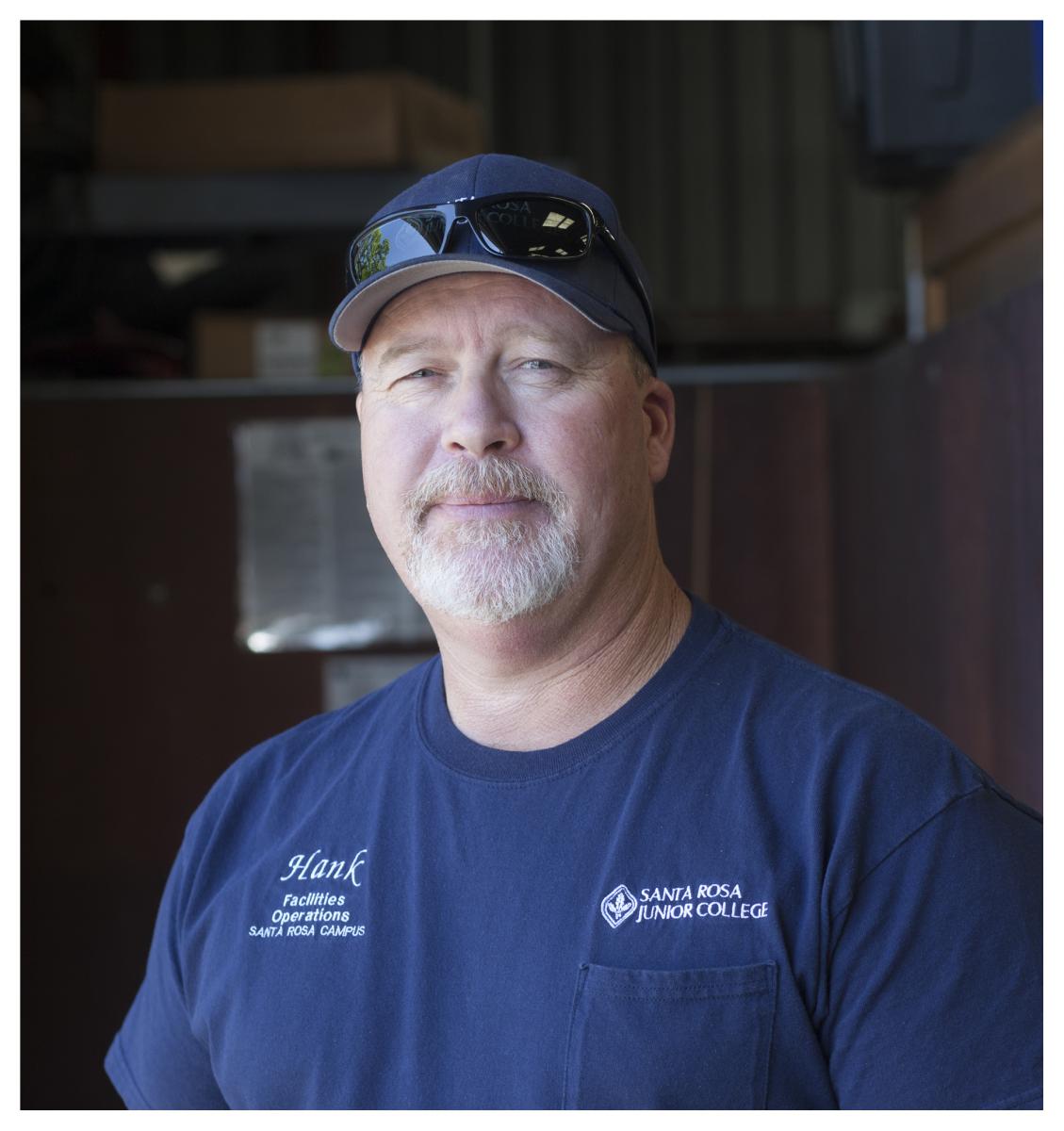 Congratulations to Henry (Hank) Lankford, Automotive/Equipment Mechanic in Facilities Operations, for being named Santa Rosa Junior College's Employee of the Month for May 2017.
Hired in 2013, Hank is responsible for maintaining SRJC equipment and vehicles, as well as all emergency generators. In 2016, he also began working out of class to assist the Interim Senior Director, Facilities Planning & Operations, with construction and facilities projects.
Paul Bielen, Interim Senior Director of Facilities Planning and Operations said, "Hank is caring, New York blunt, strong, courageous, hardworking and lives by doing the right thing. He has shown a willingness to extend himself and his workload, and assumes greater responsibility and duties in order to get the job done or alleviate potential problems. Thank you, Hank for all you give, and all you stand for."
Although Hank has been with the College for nearly four years, he is most proud of all the projects that he has been able to be a part of and complete since working out of class. He explains, "I handmade the new light mounts for the Legion gates and was able to make them look just like the originals. Then, I had the whole structure repainted as this is a landmark for our College. I also updated the auto shop with some of the latest tools and equipment, and updated our service records system to help keep accurate records."
Javier Rodriguez Aguilera, Interim Manager of Building & Equipment Maintenance, added, "No question about Hank's commitment to his work and to the College. He knows that every effort he makes to maintain our fleet and keep our facilities in good shape, makes a difference in our organization as a whole."
Hank mentions his greatest challenges at SRJC have been consistently meeting deadlines, project budgets, and the needs of others. When asked about the key to his success, Hank responded, "I have a can-do attitude and I lead by example." 
Born in Santa Rosa and raised in Windsor, the Sonoma County native attended Healdsburg High School. He later received a certificate in Emergency Care for First Responders and pursued fire science courses at SRJC.
In 1992, while serving as a volunteer firefighter engineer for his hometown of Windsor, Hank received Firefighter of the Year and most inspirational Firefighter awards. Prior to working for SRJC, he served 18 years as an ASE (Automotive Service Excellence) master mechanic. In addition to his work, he runs a nonprofit horse recovery program that takes in abused or unwanted horses and cares for them. Hank also serves on the Shone Farm advisory committee for Equine.
Aside from work, Hank enjoys riding horses, hunting, team penning and roping, working on his old hot rods, and riding his Harley motorcycle.
Hank felt honored, when told of his nomination. He celebrates the award with his wife of 28 years, 27 year old daughter and 26 year old son — all of whom have attended SRJC.