​
April 2023 - Nancy Hayashibara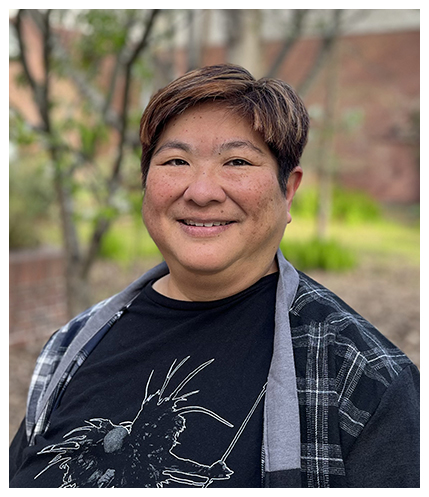 Congratulations to Nancy Hayashibara, who is the April 2023 Employee of the Month at Santa Rosa Junior College.  Nancy is the Accompanist and Vocal Coach for Choral classes in the Music department. She supports a variety of music classes and events.
Nancy was hired by SRJC in the Fall of 2013. She plays for the choirs and any student vocalists and instrumental soloists that need accompaniment. She also rehearses with them to prepare them for performances and tests.
Prior to joining SRJC, she was a freelance accompanist/coach, the music director at Unitarian Universalist Congregation Santa Rosa, and an IT professional at Agilent Technologies. She grew up in Carson, CA, and received her BA in Fine Arts and Music Performance from SSU.
She says "Having a background in art and technology has helped immensely in my ability to contribute to the needs of the department. The job these days takes place at a piano keyboard and a computer keyboard. This combination of skills allows me to do sound editing and create the videos for the department. I also make practice tracks and arrangements that I share with the students and the broader musical community."
Her supervisor, Kerry Loewen, Dean, Arts & Humanities, stated "Her incredible technical work during the pandemic allowed students to both rehearse and perform as soloists and in groups. She performed miracles. Nancy is the rock that holds up the music department. Her virtuosity on the piano provides the support and coaching students need as they learn to perform.  At every performance, soloists literally and metaphorically lean on her piano while singing."
Nancy feels strongly that one needs to stay true to the music, rather than imposing one's ego onto it.  She encourages her students to do the same. She feels that her success at SRJC comes from staying versatile and creative outside of work. "Playing around is crucial. Making animations, writing stories and songs, and drawing for fun is great training for problem solving."
She says that the best thing about her job is "being part of the music making process with students. I'm there with them onstage. I'm there with them figuring out how to make things better, more beautiful, more expressive. Being part of the process of helping to lift them up is wonderful."
Dean Loewen stated, "Her playing is stellar, and her empathy for students is legendary. Nancy is kind, steady and dependable. We are fortunate to have someone of her caliber working for the District."
Upon learning of her nomination, Nancy was pleasantly shocked and deeply grateful to be recognized.