​
November 2023 - Daisy Cardenas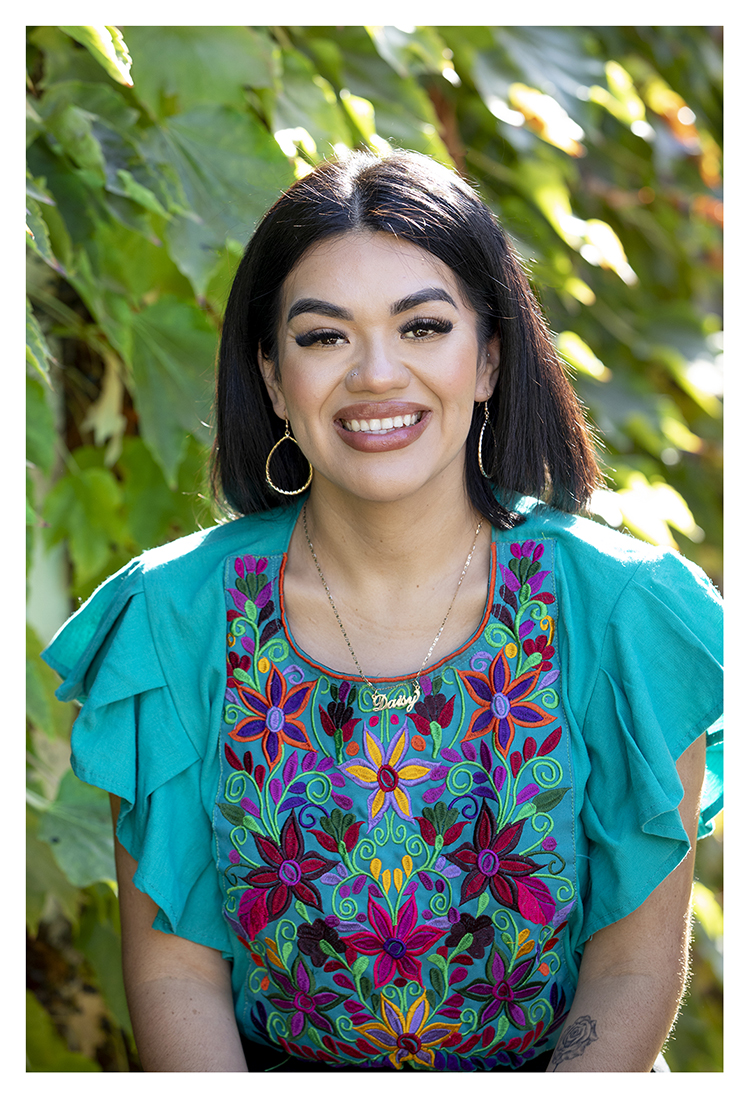 Congratulations to Daisy Cardenas, the November 2023 Employee of the Month at Santa Rosa Junior College.  Daisy is the Student Success Coordinator for Science, Technology, Engineering and Mathematics (STEM), supporting the Health Occupation Preparation and Education (HOPE) program and the HSI Avanzando learning community.
Daisy was hired as a Student Success Specialist at SRJC in January 2019, and she moved into her current position in 2021. She grew up in the East Bay's Richmond, graduating from San Rafael High School and then moving on to College of Marin. Daisy transferred to Sonoma State University and moved to Sonoma County in 2017. She completed her Bachelor's Degree in criminology and criminal justice with a minor in sociology, and in 2022, while working full-time, completed a Master's Degree in counseling psychology and became an associate marriage and family therapist.
Daisy previously worked as a coordinator at the non-profit Latino Service Providers and also for a youth program at the Juvenile Hall and Valley of the Moon Children's Center. She's consulted for the Latino Health Forum and the Mi Futuro Healthcare Careers Symposium, and also worked as a bilingual and bicultural mental health therapist with On the Margins, a San Francisco-based non-profit focused on providing mental health care centered in equity, justice and community accountability.
Daisy also has extensive past experience as a volunteer sexual assault advocate with Verity, a mentor for the DALE youth program, and a provider of immigrant rights training to the community, as well as volunteering at Sonoma County shelters during the recent wildfires. She is currently a board member for the Healthcare Foundation.
Daisy's primary duties include developing, coordinating, and executing programming under HOPE and the HSI Avanzando grant. One of her key roles is working with community funders and writing grants to support the operations and services of the HOPE program. Another key duty she cites is, "creating a sense of belonging for every student that walks through our center."
Dean of Health Sciences Tammy Sakanashi said, "The HOPE (Health Occupation Preparation Education) Program is dedicated to advancing the success of underrepresented and first-generation students pursing health care careers. Daisy has single-handedly worked to not only keep but grow the HOPE program since it lost its federal grant in 2019.  Daisy fundraised over a million dollars from private donors to allow the HOPE program to continue to aid students interested in Health Care careers. With these funds, she has expanded the staff to allow the HOPE program to serve more students."
Daisy describes her first two years with the college as her greatest challenge: "When SRJC HOPE was not renewed for TRiO funding in 2020, and having to rebuild the program in the middle of a pandemic — this was a time when healthcare students were in great need of support and funding, and we had intense demand on our program, with a waitlist of almost 300 students."
Dean Sakanashi adds, "Without Daisy's drive and commitment, the HOPE program would probably have ended in 2019. However, with her efforts to secure grant funding from local agencies and her work with the Foundation to procure private donor funding, Daisy has managed to expand HOPE services back to what they were when the program was federally funded.  Daisy is dedicated to the mission and goals of the HOPE program, and provides vital leadership in the program's success at SRJC."
Upon learning that she was selected as Employee of the Month, Daisy said her corazón felt very full, and that she is honored to be recognized in this way. As the eldest daughter of hard-working immigrant parents and a first-generation and low-income college student, Daisy's personal experience navigating higher education ignited a passion for assisting others. Within SRJC HOPE, Daisy finds great fulfillment in working with a diverse range of students and witnessing the transformative opportunities that higher education offers. She believes that the program's success stems from collaborative efforts to foster a sense of community, the amazing staff, mentors, and community supporters who believe in their mission.
Daisy's favorite part of her job is working directly with students, and she adds, "I value serving students holistically in order to create equitable access to necessary resources that facilitate their transition into specialty programs to ultimately aid in achieving their educational and occupational goals, and playing a vital role in producing a diverse healthcare pipeline for Sonoma County's workforce."
Daisy does somehow manage to find some time for a personal life, which she spends with family and friends, practicing self-care, and dancing!
Dean Sakanashi summarizes Daisy's immense value to our community this way: "Daisy is a strong, intelligent, first-generation professional who is guided by her strong value of education as the road to success for students. As a Latina and a woman, she is a role model to the students who are the next generation of health care leaders."