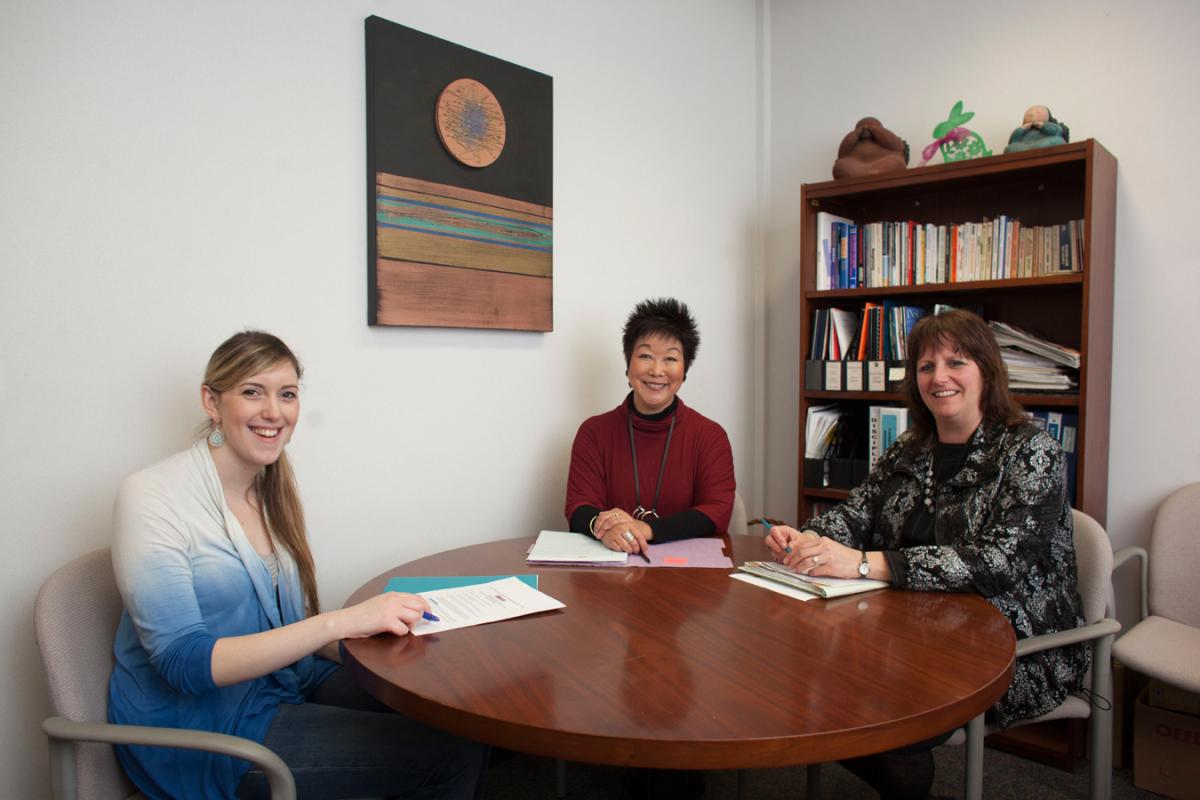 Department Staff and Responsibilities
The Human Resources Department handles personnel and employment-related matters for regular, temporary, student, and short-term non-continuing employees totaling over 3,000 people. The staff includes 1 Educational Administrator, 3 Classified Administrators, 4 Confidential employees and 7 Classified employees. Services provided include recruiting, hiring, evaluating, classification, compensation, employee benefits, accessibility, compliance, worker's compensation reporting, professional development, absence tracking and employment verifications. The Staff members serve as liaisons to other departments where personnel issues and functions cross interdepartmental lines. In addition, the Department mediates legal and personnel issues and oversees the preparation of the personnel portion of the board agenda.
Listed here are the Human Resources Department staff and their functional responsibilities. This will help you reach the appropriate person when you require specific assistance.
Karen Furukawa
Vice President of Human Resources
kfurukawa-schlereth@santarosa.edu
(707) 527-4302
Responsible for entire Human Resources function

Interpretation of contracts

All legal issues
Director of Human Resources
shopkins@santarosa.edu
(707) 527-4831
Questions about personnel policies/procedures
Classified contract interpretation
Employee/employer relations issues
Co-chair of Classification Review Committee
Employee recognition events
Oversees Professional Development
Tri-chair of Professional Development Committee
Professional Development trainings
Embracing a Culture of Inclusion Program
Classified and Management job descriptions
Day to day supervision of Human Resources functions
HR Liaison to Academic Senate Equivalency and Faculty Staffing Committees
---
Sussanah Sydney
Manager of Employment Equity
ssydney@santarosa.edu
(707) 527-4821
Recruitment of Regular and Adjunct Faculty, Classified, and Management staff

Oversight of recruitment/outreach

Recruitment procedures and timelines

Job announcements and advertising

Committee orientations and monitor assignments

Maintenance of Adjunct Faculty pools

Minimum qualifications and equivalency questions

Cultural Competency training

Equal Employment Opportunity efforts

New Staff and Faculty Orientations
---
Stephanie Jarrett
Manager of Training and Compliance
sjarrett@santarosa.edu
(707) 527-4822
Sexual harassment & misconduct prevention promotion strategies and programming and related trainings

Investigates and responds to allegations of sexual harassment, sexual misconduct and discrimination complaints

Professional development and training programs for all employee groups
PDA Day Coordinator
Faculty Flex Program
Classified Release Time Requests
---
Brenda Dixon
Executive Assistant, Human Resources
bdixon@santarosa.edu
(707) 521-6957
Executive Assistant to the Vice President of Human Resources

Contact to make appointments with the Vice President or Assistant Director

Human Resources portion of the Board of Trustees' monthly meeting agenda

Management Team Organizational Chart

Employee of the Month

Employee Sunshine Fund

Maintenance of Human Resources website

Retirements and Resignations

Provides administrative support to Human Resources Management
---
Susan Muskar
Human Resources Analyst, Senior
smuskar@santarosa.edu
(707) 524-1624
Intake of Student and Employee complaints of discrimination and sexual harassment
Worker's compensation
Reasonable accommodations program
Long-term disability and illness
Extended medical leaves
Volunteer program
Exit Interview
Adjunct Faculty Medical Benefits
Pre-employment physical process for designated classifications
Special projects and back-up for other HR staff
Employee Medical, Dental, Vision, and Life Insurance benefit programs
Retiree Medical and Dental benefit programs
COBRA Notifications
Open Enrollment Information
Health Care Reform Information
Reduced Workload Program
Early Retirement Option Program
CalPERS and CalSTRS Retirement System Information
---
Gina Waggoner
Human Resources Specialist, Systems & Compensation
gwaggoner@santarosa.edu
(707) 527-4786
Position control and data entry
Budget issues as they pertain to computer information system
Salary placements for Regular and Adjunct Faculty
Salary schedule movement for Regular and Adjunct faculty
Faculty and Management PAFs/Master PAFs
Adjunct Faculty resignations
Incoming transcripts
Surveys and Human Resources reports
---
Danielle Donica
Human Resources Technician
ddonica@santarosa.edu
(707) 527-4785
---
Linda Jay
Human Resources Technician
ljay@santarosa.edu
(707) 527-4817
Classified PAFs/Master PAFs
Evaluation tracking for Management and Classified staff
Instructional Assistant step movement and tracking
Employment paperwork processing for Classified, Faculty, Management, STNC and Professional Experts staff
Notice of Absence and all leave tracking for Classified, Faculty and Management staff
Fingerprinting
TB clearance tracking
Extended medical and maternity leaves of absence
STNC Days Report
---
Vacant
Human Resources Technician

(707) 522-2667
---
Maria Padilla Campos
Human Resources Technician
mpadillacampos@santarosa.edu
(707) 527-4787
Human Resources Technician for Regular and Adjunct Faculty, Management, and Classified staff recruiting
Requisitions, recruitment statistics, job announcements and advertisements
Initiation and Processing of Adjunct Faculty new hire paperwork
Maintenance of Adjunct Faculty pools
Hiring Committee paperwork
Department Administrative Assistant/Receptionist
General information
Employment Application questions
Employment verifications
The person to call when you don't know who to talk with in the Human Resources Department
Support for Professional Development
General information on flex program
Maintenance of flex records
Support for Professional Development trainings and orientations
Support for PDA Day activities
Assistance with Employee Benefits program
Tuition Reimbursement Program
Staff Resource Center and Professional Development Website